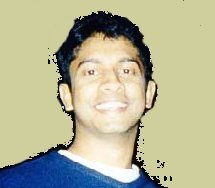 This is my second attempt at a decent website.
My first site went up in 1997 and was a gaudy dedication to Fantasy art and artists.
Since then, I lost interest in the topic and my new site will be more generic with a few pointers on HTML and JavaScripts and some general information about me .
I haven't hidden any of the scripts used to create this page, so help yourself to any code you want.
Navigation: Use the Tabs on top to select a general topic and then use the links that appear in the line just below the Tabs to select a specific page.
You can access the Yellow House website and leave a message from here.
Use the 'Home' button at the top of the screen to get back to this page at any time.
My Book: There's a link to the book I'm writing under the "Personal" Tab.
I've set up a password to access what I've written so far, but I'll make it public once I'm done.
Contact Me:
The best way to contact me would be through email. My address is
rahul_bh@yahoo.com
Photographs:I'm putting up a bunch that I have with me, but I'd really appreciate more.. so send them in!
UPDATE: Arati's Wedding Pics!

This page has had
visitors so far.